Site Spotlight - Spectrum Health Grand Rapids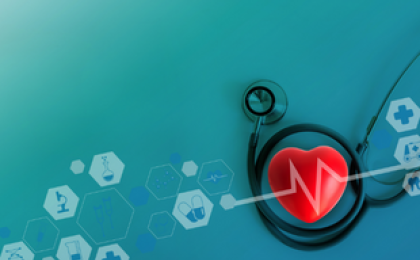 "We've been tucked away for a long time," reflects Sara Babcock, RN, MSN, the Quality, Safety, and Experience Clinical Database Lead at Spectrum Health Fred and Lena Meijer Heart Center in Grand Rapids. "The pandemic took so much from us. I don't want it to take our quality care away from us. We gave quality care beforehand; we need to be giving quality care afterward."
One of the ways that the team at Spectrum has worked to improve quality care and outcomes during the pandemic is to look at ways to reduce the rate of permanent pacemaker placement following transcatheter aortic valve replacement (TAVR.) Although the STS/ACC TVT national benchmark of patients receiving a post-procedure permanent pacemaker (PPM) was 7%, Spectrum Health's rate was 18.2%.
Cases were assessed at random, then a multidisciplinary team comprising Sara along with Denise Busman, RN; Sarah Stillo, RN; Stephane Leung Wai Sang, MD; Duane Berkompas, MD; William Merhi, DO FACC; and John Heiser, MD, worked to identify the root cause and make recommendations for improvement.
They found that patients with pre-existing right bundle branch block were at risk of needing a PPM and those patients were referred to the Electrophysiology Team. They also worked toward early awareness and identification of post-procedure rhythm changes with Advance Practice Professionals and nursing staff. They brought in an outside expert to consult on a new RAO Cusp Overlay valve deployment technique as well as provide education and training.
Monthly post-procedure PPM rates were tracked by the database clinical manager and the findings were shared with the TAVR team to provide ongoing review and communication. The efforts resulted in the PPM rate decreasing from 18.2% to 7.2%, within the range of the national benchmark of 7%. Further work will focus on understanding how the distribution of patient profile risk profiles impacts outcomes.
In addition to the PPM project, the team has been looking at alternatives to the KCCQ to measure patient satisfaction by way of Spectrum Health's Registry Quality Program. This involves a multidisciplinary team reviewing 30-day and yearly (when available) follow-ups against the NYHA classification to look for improvements. While not meant to be a replacement for the KCCQ, it can help show how the procedure benefits high-risk patients.
Sara recently participated as a member of the ACC Quality Summit Planning Committee. She shared ideas for themes and topics for the summit, served as a panel member for talks, and ultimately presented on Spectrum Health's quality review. Sara reflects that being at ACC was a reminder that, just as in MISHC, it is not just the data manager, not just the physician, not just a nurse, but the whole team of providers that make a procedure successful.
Sara encourages others to get involved by presenting their projects at a MISHC meeting or nationally. While it may be nerve-wracking, she believes that the interaction it enables is worth the temporary anxiety. It gives you a little bit of an edge, and access to experiences that you may not have had as a spectator sitting in the seats.
As we are all recovering from the impact of the pandemic over the past 2.5 years, Sara believes it gives patients a sense of security when they know they are returning to a program that is well put together and functioning highly. It is clear from Spectrum Health's recent projects that a commitment to improving quality of care and outcomes for patients is a top priority.