Site Spotlight - Henry Ford Hospital Detroit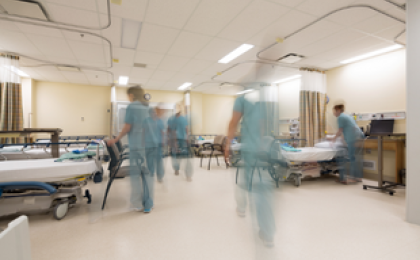 A group of TAVR professionals at Henry Ford Hospital Detroit, led by Nurse Practitioner Crystal Cusin, wanted to find a way to reduce the length of stay post-TAVR for eligible patients without compromising patient care.
Qualifying patients are over 18 years old and candidates for transfemoral or transcaval access. They must also be outpatients before the procedure, have a frailty score of 1 or less, and not have a pre-existing conduction disease like Right Bundle Branch Block or Second-Degree Heart Block without having already received a permanent pacemaker. Patients without a pre-existing permanent pacemaker must be scheduled to receive a balloon-expandable valve.
"The fact that transcaval access qualified, not disqualified, the patient for early discharge is noteworthy and a sign of how many transcavals Henry Ford has done and with what safety profiles," said Dr. Tiberio Frisoli, a BMC2 participating physician for Henry Ford Hospital Detroit.
The team identified some barriers that were contributing to longer hospital stays:
Physicians were making rounds too late in the day.
There was an inability to perform transthoracic echocardiograms and get results the same day. 
Patients were not yet ready to leave the hospital or did not have transportation home.
To overcome these barriers, the team worked to educate patients and their families and help them to understand what they could expect. They began by pre-identifying patients who would be eligible for the early discharge protocol, thus triggering a pathway for earlier pre-ordered echocardiograms. The non-invasive imaging department is provided a list of these early discharge patients in advance. The team also worked to engage attending physicians in establishing an earlier rounding routine.
These efforts resulted in the team implementing a protocol that reduces the length of stay by half a day for those eligible.
While structural heart disease centers throughout Michigan treat the same valve conditions with the same technologies, there can be variations in style and technique. Henry Ford Hospital Detroit's Dr. Tiberio Frisoli says that participating in MISHC is beneficial. "We're constantly looking for ways to be better and to learn from others. Establishing certain best practices standards is also very valuable" he said, adding that working with colleagues from across the state can aid in making improvements.
Crystal Cusin presented a poster of this work at the American College of Cardiology Session Expo held April 2nd – 4th in Washington, D.C., and won first place in the cardiovascular team division. She also authored the paper, "Reducing Length of Stay for Patients Undergoing Transcatheter Aortic Valve Replacement Using a Prescreening Approach," published in the June 2022 issue of the Journal of the American Association of Nurse Practitioners. The co-authors of the publication are Patricia A. Clark, Claude W. Lauderbach, and Janet Wyman.
The Henry Ford Hospital Detroit team is committed to improving quality of care and patient outcomes. They continue to work on this new protocol to meet their goal of discharge by 11 am on the day after TAVR procedures more consistently. Their next goal is to achieve same-day discharge for eligible patients, further improving the benefit to patients without compromising care.